From the cool blues of the ocean to the warm golden sun of the desert, Southwest Florida is a place of contrast. Although the landscape may be different, one thing remains the same; the importance of selecting the perfect pavers to complement your home's outdoor space.
With the right pavers, you can create a beautiful and functional outdoor space that will last for years to come. Let this article be your guide as you explore the factors, materials, pool-area pavers, design ideas, and maintenance tips that will help you pick the perfect pavers for your Southwest Florida home.
Paver Selection Factors
Considering the right pavers for your Southwest Florida home can be overwhelming, so here are some key factors to consider when selecting the perfect pavers.
Opt for light-colored pavers to keep your outdoor space cool and comfortable in the hot summers.
Choose pavers that are slip-resistant to ensure safety in outdoor areas.
Consider the permeability of the pavers to reduce runoff and preserve the water cycle.
Make sure the pavers are resistant to weathering and can handle the hot and humid climate of Southwest Florida.
Additionally, the pavers should match the existing style of your property.
With these selection factors in mind, you can easily find the perfect pavers for your home.
Exploring Popular Paver Materials
Now that you've considered the selection factors, let's explore the popular paver materials that are suitable for your Southwest Florida home.
Sandstone, slate, travertine, brick, and concrete are some of the most popular options. Consider the pros and cons of each, the cost considerations, the installation process, and the eco-friendly options.
Sandstone pavers offer a natural and rustic look with excellent traction, while slate pavers have a distinctive look and are resistant to stains and cracking.
Travertine pavers remain cool under the sun and come in various colors, while brick pavers offer a timeless and traditional look but can heat up in the sun.
Concrete pavers are durable, weather-resistant, and easy to maintain.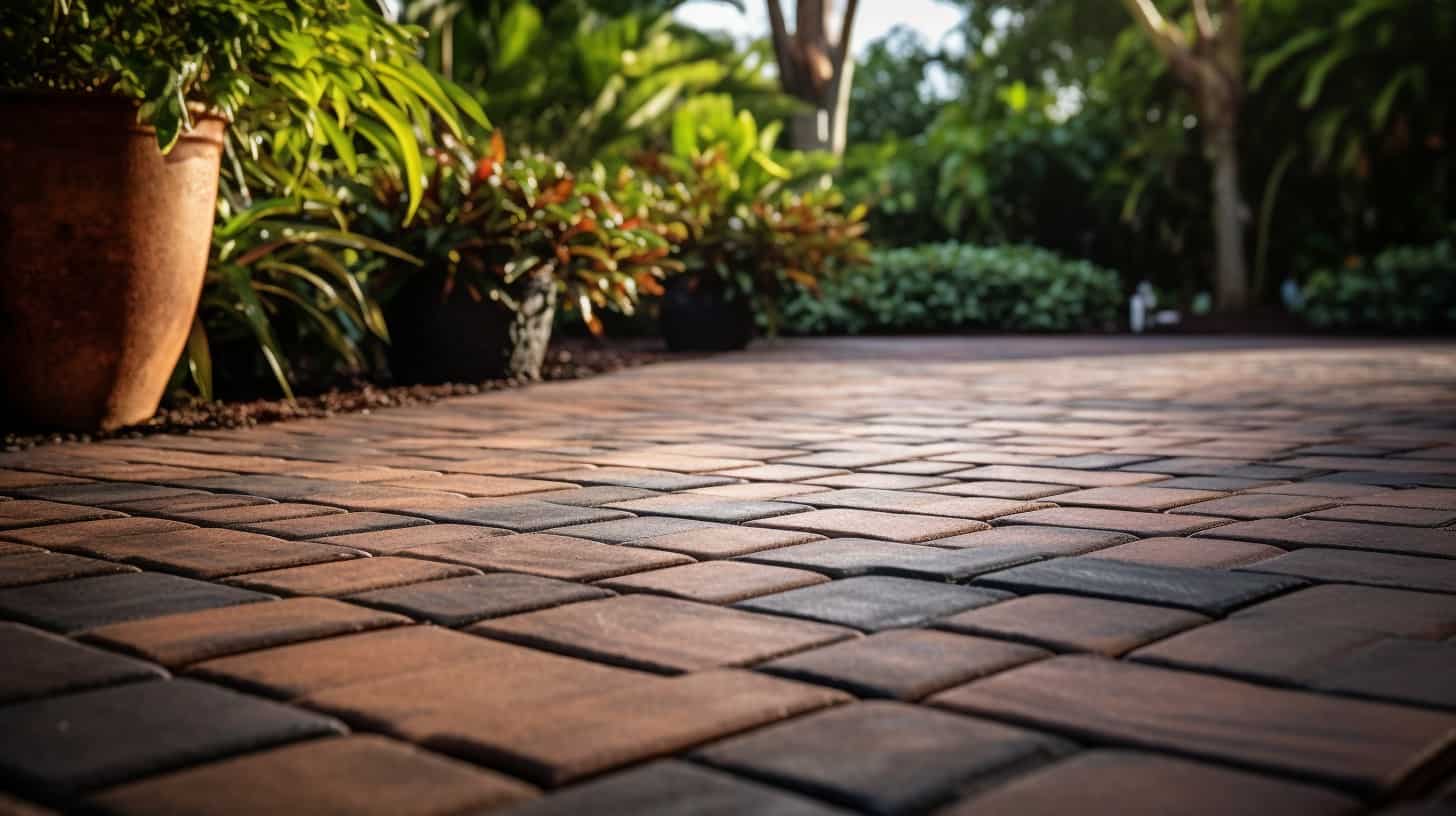 Ideal Pavers for Pool Areas
When it comes to pool areas, some of the best pavers to use are travertine, concrete, and sandstone.
Travertine is heat-resistant and comes in attractive colors and finishes, while concrete pavers are durable and can withstand heavy foot traffic.
Sandstone pavers provide excellent traction and are suitable for wet areas.
When choosing pavers for your pool area, opt for non-slip options and heat-resistant choices. Comfort is also key – pick pavers that are comfortable to walk on.
The best colors for pool areas are typically light shades, such as beige, tan, and gray.
Choose wisely for a beautiful pool area that stands the test of time.
Inspiring Paver Design Ideas
Continuing on from pool pavers, another important decision when choosing pavers for your Southwest Florida home is the design. From unique paver patterns to creative outdoor pathways, there are a variety of modern paver designs to consider.
To create a one-of-a-kind look, consider these ideas:
Create intricate herringbone patterns for a sophisticated look.
Create a running bond pattern for a classic, timeless look.
Try I-patterns for a contemporary, striking design.
Incorporate flagstone pavers for intricate patterns.
Try out different materials for pathways for added interest.
Play with color combinations for a modern, fresh look.
With a little bit of creativity, you can create a beautiful outdoor space to enjoy for years to come.
Effective Paver Maintenance Tips
Once you have chosen the perfect pavers for your Southwest Florida home, it's time to start thinking about how to keep them looking great for years to come. Regular sweeping and spot cleaning are essential to maintain the pavers and prevent permanent damage. Sealing techniques also help protect against stains and element penetration. Polymeric sand is great for preventing shifting or unevenness.
To prevent weeds, use a natural solution. Repairing grout and replacing broken or stained pavers can also help maintain the overall look. Choosing the right paver color and sealers can also help preserve the longevity of your pavers.
Regularly rinse off the pavers to remove any ingrained dirt and debris. With proper maintenance, your pavers can look amazing for decades.
Choosing the Ideal Pavers for Your Southwest Florida Home with CWG Landscape Inc.
When it comes to selecting the perfect pavers for your Southwest Florida home, there's no better partner than CWG Landscape Inc. With their extensive knowledge and experience, they can guide you through every step of the process, from selection to installation, and even future maintenance.
They understand the popular materials suitable for our climate and can suggest inspiring designs that complement your home's aesthetics. Whether it's for your pool-side area or other outdoor spaces, CWG Landscape Inc. ensures a durable and beautiful setup that will stand the test of time.
So don't hesitate, let CWG Landscape Inc. help you create the outdoor paradise you've always dreamed of – you won't regret it!